Around this time of year I start getting emails from PRs about (sorry!) Christmas. It's Christmas in July time - and their clients are starting to promote their products in time for when we go shopping for
xmas presents
.
And every year, in the sweltering heat of July (ahem!) I think 'Christmas??? Really???' And each year I'm surprised how early my readers start commenting on 'getting organised for "you know what"!! And each and every year I solemnly swear to get organised sooner. See, I gave birth twice just before Christmas (I know, genius!) and so each December becomes awash with party preparation and present buying. Beyond manic.
Well this year I truly am going to take a leaf out of the more organised amongst you, super-organised book! I'm going to visit sites like Bags of Love (see link above) and get ordering! I adore the personalised aprons and, having a photographer for a husband, the canvas prints and other photographic gifts you can have made for doting relations.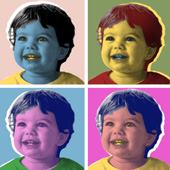 Check out the fun personalised Pop Art
at Bags of Love
So, I'd love to know, how many of you start thinking Christmas in July?